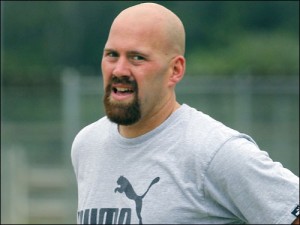 The schedule-maker didn't know it at the time, but he was giving us a nice mid-August gift. The Sox will play four against the Royals, but they'll be doing it without the services of both Youkilis and Ortiz. Big Papi is still rocking the "soft boot" and Youk just went to the DL with his aching back. If the Sox were playing four against a real team, this would have been devastating.
You have to feel pretty good about their chances with Beckett on the mound. After giving up five quick runs in his last start, he's been on a steady diet of anger and cheap whiskey preparing for tonight. I'm not saying he's going to do anything crazy, I'm just saying I wouldn't get too comfortable in the batter's box against him.
With Youk sidelined, we officially ring in the Ryan Lavarnway era in Boston:
Lavarnway said he got the word he might be going to join the major league team last night. He was pulled from a game with Pawtucket in the seventh inning. Lavarnway, who has hit a combined 30 homers and 85 RBI in 55 games in Double-A Portland and 55 games in Triple-A Pawtucket, was in the middle of a 2-for-26 stretch and 5 for his last 40 (.125). The hope is he can infuse some power in a lethargic lineup the past three days.
Join us for the fun, won't you?