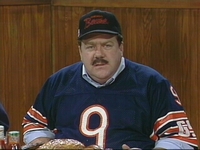 As one astute commenter pointed out, even a hurricane can't stop these Red Sox. They swept the double-header at a rain-soaked Fenway Park and now have a two game lead in the East and two days off to enjoy it. Lester grabbed the win in game one behind nine runs and 13 hits, including a home run for the Captain.
In game two, Mother Nature conspired against Erik Bedard, ending his day at four innings and not allowing him to qualify for the win. The bullpen trio of Aceves (credited with the W), Bard and Papelbon combined for five innings of one-hit ball and the Sox went on to win 4-0. Salty and Papi provided the offense with five hits and all four RBI including Papi's 27th homer.
Now, New England prepares for the much-hyped Hurricane Irene. Not a very intimidating name, until I remembered it was the real name of the actress who played "Granny" on The Beverly Hillbillies. I wouldn't f#*k with her.