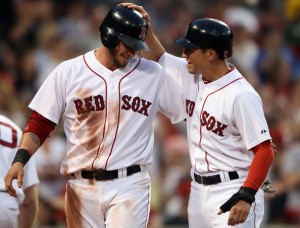 When the second pitch of the game went out of the yard, I had a bad feeling about this one. And when the replays showed the ball to be catchable, I immediately began fashioning a Darnell MacDonald voodoo doll and breaking out the emergency booze supply. But in the most unlikely ending to a game, the Sox prevailed and Dirty Water rocked Fenway.
I doubt Red could have written a more bizarre ninth inning even after one of his patented waffles and Silver Wolf brunches. First of all, I never expected Jason Varitek to come up with a big hit in the ninth. But he did. It was a no-brainer to lift him for a pinch-runner…until Salty came out. OK, maybe he's half a step faster than Tek, but I don't think either one of them could beat Betty White in a footrace. To prove me wrong, Salty makes a nice base-running play on Reddick's dead-man's-land single. Maybe we have something brewing.
When Ellsbury laced the second pitch he saw into center, I never thought they'd send Salty home. When they did send him, I thought he's be out by roughly 30 feet. Wrong again. Salty kicked it into what passes for high gear and made a great slide to beat the tag. Ball game. It was Ellsbury's first walk-off hit.
Tough luck for the Commander who pitched well enough to win most games, but fell victim again to a lack of run support. He ran out of gas in the sixth (thanks to a 90-minute rain delay before the game started) and Franklin Morales gave the Sox two great innings. Papelbon pitched the ninth to set up the walk-off.
Youk had the game-tying home run in the sixth but was ejected after being called out on strikes in the eighth. The replay looked like he did hold up his swing, but it's always fun to see Youk flip his shit anyway.