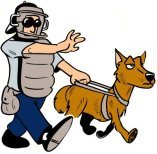 I'm all for hiring the handicapped but maybe not in the role of Major League umpires. Tim McClelland was horrible, squeezing Erik Bedard's strike zone to roughly the size of an atom. Or perhaps McClelland isn't familiar with the little-known rule that if the baseball goes over the white, pentagon-shaped thing, it's a strike. This performance was on the heels of Big Tim blowing a pick-off call at first base during Monday's game. There really needs to be some sort of rating system implemented to weed out the suck.
Venting over. Another huge win for the Sox, as the Yankees were busy losing to the Angels, courtesy of a Bobby Abreu home run off of Mo Rivera. Didn't Abreu used to be a Yankee? That's tough. But the result is a two-and-a-half game lead in the East for the good guys.
Darnell McDonald brought the thunder with a two-run shot, but it was Big Papi with the lightning, beating out an infield single to plate the go-ahead run in the seventh. Papelbon pitched a perfect ninth..on just nine pitches. Ball game. Bedard doesn't get the win, but blind umpire aside, he looked pretty good: two earned on three hits while striking out six.
Tonight, it's Lester going for the sweep and win number twelve.