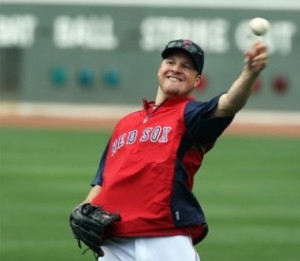 In his Red Sox debut, Erik-with-a-K went five innings, gave up seven hits and three earned while striking out five. The Sox bats are still slumbering, managing just three runs on five hits and ending up with a split in the series. But the important thing is Bedard's outing.
The injury to Clay Buchholz has left the Red Sox without a legitimate third starter. Lackey has been inconsistent at best, Wakefield is 45 years old, and Miller has proven ineffective. Ideally the Sox would want a second lefty in the rotation in a seven game series with the Yankees. If Bedard can improve a bit, he could be that guy.
In reality, last night should have been a rehab start for Bedard who is coming back from a sprained knee. Prior to the injury, Bedard posted a 2.25 ERA in June and a 1.39 ERA in May over 10 starts. He has proven he can pitch in the AL East, ending up 40-34 with a 3.83 ERA during his five seasons on some bad Baltimore teams.
Bedard should get his next start against the Twins on Tuesday or Wednesday. I'm calling for his first win in a Sox uni.