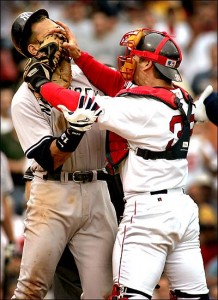 After last night's unlikely win (Lackey versus CC?) the Sox are now 9-2 against the Yankees in 2011. Not only will a win tonight put them back in sole possession of first place, it will secure the season series and guarantee the Sox the division if they should end the season with identical records. At this point, does that seem so unlikely?
Mother Nature seems to want to see the game as ark-building weather has turned to sunny skies with just over an hour until first pitch. Josh Beckett takes his perfect 3-0 record and almost-invisible 0.86 ERA against the Yankees this season to face Freddy Garcia. In two starts against Boston this year, Garcia has managed just seven innings while getting lit up for eight runs.
Last night proved that match-ups don't always come to mean anything, but this is the Commander we are talking about. Sunday Night Baseball with the Red Sox means Sunday night drinking is in order. See you at eight.