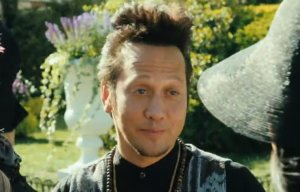 Some crazy things that go through your head on a rainy Monday when your team has an off day and just lost a series to the dead-ass last-place Mariners. Throw in a standings-tying Yankee win and you've got yourself a full-blown shitfest. Only the release of a new Rob Schneider/Meryl Streep romantic comedy could've made the day any worse. All joking aside, if he was not pals with Adam Sandler, he'd be working the grease-gun in a Jiffy Lube somewhere.
First topic on the big agenda of fun: Tim Wakefield. Red has made a couple of references to Planet of the Apes thanks to Marco Scutaro and ape-gate. It made me wonder, will Wake still be searching for win number 200 in 2039 after apes have taken over the world? Allowed as the only human player thanks to a little-known "grandfather rule" in the Scrolls of Ancient Wisdom? Or will Tito just leave him in a game this season until his arm literally falls off?
Today the Sox are scheduled to play a day/night doubleheader against the once-relevant Rays. Looking at the weather, if they get one or both of these games in, it won't be pretty. So people holding tickets from a rained out game earlier in the season could very well be rained out again. Best case if they will sit through some delays. A complete wash-out would set up the rare triple-header, an event that has not taken place since Pittsburg and Cincinnati played three in 1920 (actually triple headers are not allowed under the current collective bargaining agreement).
I watched The Changeling over the weekend. Just when I thought I'd heard every effed up story this country had to offer, I find out I'm wrong. It's closely based on a true story, but still hard to believe something like this could really happen. Another fine Eastwood film.
The Jets lost last night. I know it's only preseason,,,but the Jets lost.
August 31st is coming quick. Hope to see you all at Crossroads for our annual Jimmy Fund Radiothon Fundraiser. Good times, a Red Sox/Yankees game, and the chance to kick cancer's ass.