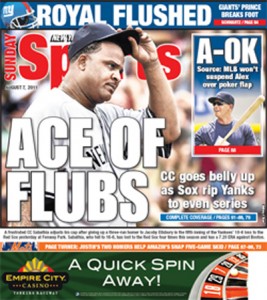 Not only is baseball back today, it's back with a rivalry showdown. The last time John Lackey faced CC Sabathia and the Yankees, it looked like a mismatch. But the Sox pounded the Yankees 10-4 behind a 4-hit night for Crawford and a 6 RBI show by Ellsbury. Lackey went six, giving up just three earned runs and upping his 2011 record versus the Yanks to 2-0.
Sabathia has six losses this year: four of them courteous of our own Boston Red Sox. The fat one is 0-4 with a 7.2 ERA and has given up 20 runs on 33 hits in 25 innings. And if the Sox can somehow beat him for a fifth time, what does that do to the Yankees psyche come playoff time?
Sadly, I don't believe lightning will strike twice. Lackey pitching that well against the Yankees was like winning the lottery. Ever hear of anyone winning the lottery twice? It's like Billy Joel reeling in Christie Brinkley. Like James Blunt having a number one song. Or like me getting a prediction right.
I'm not saying the Sox won't win the game, I'm just saying Lackey won't go six innings, nor will he give up three runs or less. This one will be decided by the bats and the large-assed yet mentally fragile CC.
Congrats to Adrian Gonzalez, AL Player of the Week.