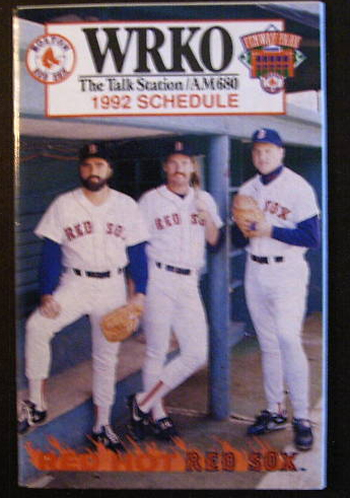 They say it's important to remember where you came from (and by "they" I mean the cast of Back to the Future III). So as the 2011 Red Sox continue to tear up the rest of the American League, proudly boasting one of the best records in all of baseball and very likely headed to the playoffs this October, I felt it appropriate to point out that next year will mark the 20th anniversary of the single worst Red Sox team of my lifetime.
The 1992 Red Sox had hall-of-famer Wade Boggs, future hall-of-famer (if he can start bribing voters now) Roger Clemens, Mo Vaughn, Tom Brunansky and Jeff Reardon, yet somehow still managed to finish dead-ass last in the AL East. An even more impressive feat when you consider that back then, in the pre-"AL Central" days, the East had seven teams, not just five. Their final record was 73-89 (just one game more than the 2011 Red Sox have won… as of August 12), which earned them scorn and ridicule from fans, who finally went berserk and stormed the field during the last home game of the season, wedgie-ing pitcher Danny Darwin within an inch of his life.
Granted, in these pre-2004 times, we were used to the wheels falling off the wagon. But in 1992, the wagon lost its wheels then fell into a pit of fire crawling with man-eating bison and featuring music by Seals and Crofts. This was a bad, bad team that didn't look so putrid on paper — in addition to Boggs, Clemens and Vaughn the team featured Tony Pena, Jack "Man do I love million-dollar cars" Clark, Franky Viola and the immortal (and the ironically named) Herm Winningham. But once they hit the field, it all went tits-up. Clemens went 18-11 with a somewhat respectable 2.41 ERA and Viola won 13 games. But their fellow starters and the relief corps could barely work their way out of the bullpen gate.
The offense didn't fare much better. Today, we're spoiled with the Murderer's Row of Ells, Elf, Gonzo, Youk and Ortiz. But in 1992, none of the regulars hit over .276 for the year (that average owned by Mighty Bob Zupcic) while Boggs earned the lowest average of his career at .259. Our home-run leader was Brunansky (15) and the guy with the most hits was Jody "Free Mustache Rides" Reed (136). The team finished second-to-last in the American League in hits, RBIs and runs scored.
Making the 1992 season even more puke-inducing was the fact that it marked the debut of manager Butch Hobson, who was touted by many as the future Greatest Red Sox Skipper Ever–although that "many" was later revealed to be Hobson's parents and a couple people who knew him from the local tavern. After watching him lead Pawtucket to the playoffs, Sox management was so eager to install Hobson in the bigs, they sent Walpole Joe Morgan packing, even though the team made the playoffs twice in his three-and-a-half years on the job.
Hobson was apparently never a player favorite — the most ominous sign of things to come was at 1992 spring training when Rocket showed up late, then jogged the field with headphones firmly in place while Hobson huffed alongside him, supposedly giving him a "talking to." Once it was established that his star player had little or no respect for his authority, Hobson turned his attention to other things, like keeping Daryl Irvine and Joe Hesketh in line. And despite lofty expectations, the team never finished above 4th place during his three year tenure.
I remember going to a bunch of games that season with my dad, commiserating with the masses from our perch in the section 16 grandstands. I don't think they won a single game I attended, but there was something oddly comical and fascinating about just how poorly this team looked. In a year of few highlights, I do recall left-fielder Billy Hatcher going on something of a tear at the plate for a couple weeks, prompting a NESN game graphic labelled "Who put the match to Hatch?" Other highlights included Frank Viola's mustache and Greg Harris' glasses. And not much else.
I only bring it up because it's so interesting to see how far we've come. 1992 turned out to be our last year in the basement (knock on wood), and we've reached that Bizarro World point where, God help us, we're surprised when the team doesn't make the playoffs.
But I do remember stumbling out of one of those 1992 shitfests and wondering aloud if the boys would ever make it to the promised land. Dad, ever one to find the bright side, just said, "Hey, at worst, we just got to see a ballgame at Fenway. That's a pretty good way to spend an evening."
And, as usual, he was right.