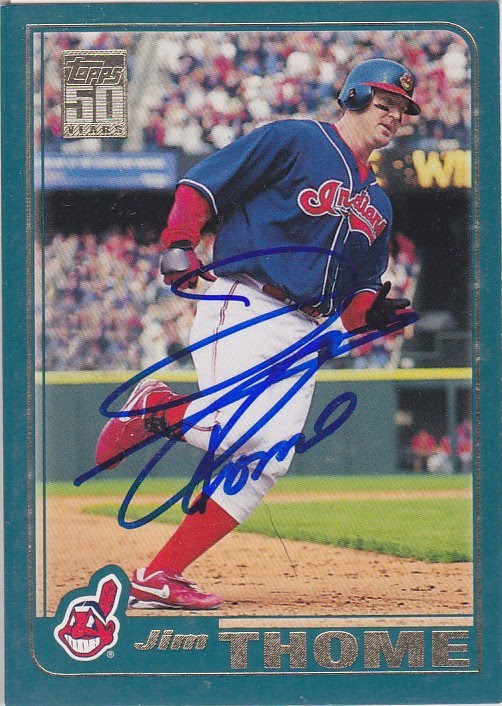 In the madness of three games in 24 hours and the sudden demise of the Red Sox bats, we never got the chance to give a proper congrats to Jim Thome, who joined baseball's elite 600 home run club earlier this week.
Although a nice guy by all accounts, I'll forever remember Thome for the way he tormented the Sox at every turn of the 1999 ALDS against Cleveland, batting .353 with 4 home runs and 10 RBI. And in no game of that series was he more menacing than game five, the deciding game, which was like a caffeine enema on a see-saw (not fun, trust me).
After the Sox got two runs in the top of the first, the Indians answered with one in the bottom of the inning before Thome put 'em ahead with a two run bash. Later, when the Sox erupted for five runs in the top of the third, Thome once again slipped on the shitkickers, pounding a three run home run to put his team back on top. Altogether, the Sox and Indians scored fifteen times over the first three innings, and the seemingly unstoppable Thome looked like the goddam Terminator, determined to carry his team to victory if he had to bust every head in the place (in the most polite way imaginable, we assume). Across Red Sox Nation, you could almost hear every sentient being screaming into his or her television, "In the name of all that is holy — stop pitching to that f$%king madman!"
Of course, we know how this one ended. Pedro floated out of the bullpen like the Dominican Silver Surfer and shut the Cleveland bats down for good. Before Pedro came in, Thome was 2-for-2 with 2 home runs and 4 RBIs. In two at bats against Pedro — and this is vintage Pedro we're talking about — the guy whiffed twice.
But for a few harrowing moments, Thome seemed poised to belt his team to the promised land. While I was glad he didn't achieve his goal back then, I'm happy to see him make history today.
Special bonus trivia: Before he made The Steal, Dave Roberts was known exclusively as the second out of the ninth inning, lining out to Nomar before Petey K'ed Omar Vizquel to end it. And to think this was all leading up to the 1999 ALCS. Ack.