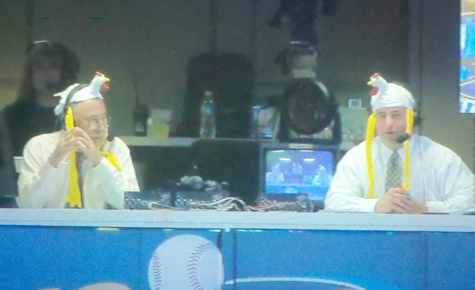 Members of the Academy of Television Arts and Sciences, I hope you were taking note of last night's NESN Red Sox telecast. Because the sight of Don and Jerry sporting chicken hats was pretty much the best thing to show up on my worthless TV screen since Megan Fox played the hot granddaughter on Two and a Half Men. And I think this magic moment is worth remembering at Emmy voting time.
Yes, the Red Sox won to keep pace with the Yankees. But long after I've forgotten Andrew Miller's surprisingly suck-free start or the brief but glorious return of that thing called offense, I'll remember the chicken hats.
The guy who played the Six Million Dollar Man said, "You don't f$%k with a winning streak." Then he got killed by robot bigfoot. I stand here today before you, representing Lee Majors and everything he represented (crime fighting, stunts, banging Farrah, etc), to respectfully ask that Don and Jerry sport the chicken hats again tonight. And, if we win tonight, the next night. And again and again until such time that the chicken hats prove ineffective.
All I know is that right now, we're 1-0 with the chicken hats. With Tim Wakefield shooting for his 200th win tonight, do you really want to mess with winning mojo?
Keep the hats of chicken, men. For Timmy. For winning. For Lee Majors.
Goodnight, vodka.