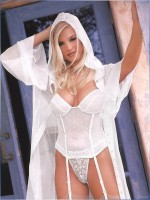 It's not bad enough he crushed our World Series hopes in 2003, but he has to have a smokeshow for a wife? It's finding things like this that almost make me not surf the net and do real work while I'm in the office. Almost.
I'm predicting a little Friday Night Lights-Out for tonight's game. And we all know how awesome my predictions usually turn out. But I won't stop, cause I can't stop. The bats need to make a statement against the lowly Royals, particularly the goofball taking the hill tonight, Jeff Francis.
Kansas City will give the ball to the struggling Jeff Francis (4-13, 4.76 ERA), who is 0-3 with a 4.80 ERA in his last five starts at home.
And he has one of the most punchable faces in the AL. He looks more like a "Gomer" or a "Dorkweed" than a Jeff. The bats better get it done, because Miller might need the help.
Miller had a rough time of it against the Royals on July 26, giving up seven runs and nine hits in 3 2-3 innings before Boston rallied for a 13-9 win. He's never beaten the Royals and has an 11.08 ERA in five career appearances – three starts – against them.
Or, Miller could step up and shut down the Royals…that gets my vote.