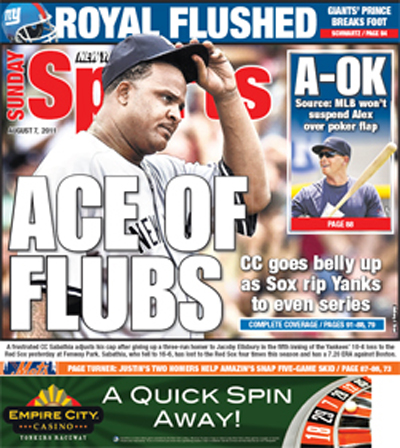 It seems the trick to surviving John Lackey starts is to just stop believin'. Because prior to yesterday's game, I thought there was a better chance of Emma Stone showing up at my place with a six of 'Gannsett tallboys to model thongs and miner's helmets than Lacko beating the AL's winningest pitcher.
But three things happened to prove me wrong.
First, Lackey stepped it up big time, overcoming the pessimistic vibes likely aimed at him from every corner of Fenway to give up just six hits and three runs over six innings against this maddeningly difficult line-up. More importantly, just when it looked like he was going tits-up, he worked himself out of a couple big-ass jams. Like in the fourth, when he got Nick The Swish to ground into a double play after loading the bases with nobody out. And again in the fifth when he let the first three batters reach on two hits and a HBP, then hunkered down and got three straight outs, two by way of the K. It was a gutsy performance and, despite the heart attack moments, he delivered just what we needed.
Second, our offense continued to be crazy good, with an amazing lack of f$%ks given for Sabathia's record and reputation. Crawford — just the guy I'd hoped would bust out during this series — went 4-for-4 while Ellsbury kept on bein' Ellsbury. Last year, that was a put-down of the highest order. Yesterday, it meant knocking in six runs against the best the Yankees have to offer.
Lastly, Sabathia continued his odd habit of turning to loose change when facing us. Against practically every other team, he's a Cy Young candidate. Against us, he's about as menacing as a sales guy from Macy's Big and Schlubby department ("56 wide pleated pants? Let me check out back.") We're officially in his head, as evidenced by his 0-4 record and 7.20 ERA vs. the Sox–someting that should serve us well come October.
So once again, we're all locked up at the top of the standings, with Josh Beckett aiming to get us our 70th win tonight. Weather willing, I like our chances of owning first place.