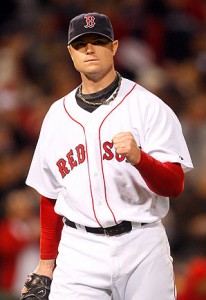 On July 5th, Jon Lester pitched four no-hit innings against the Blue Jays, then departed the game with what would be diagnosed as a lat strain. Tonight, he makes his return to the rotation. Right back to the bigs for Lester – who needs a rehab start when you can face the lowly Royals?
Lester take his 3.31 ERA against Kansas City and their 42-59 record (14-30 on the road), looking for the fifth straight win for the Red Sox. The Royals are in dead last in the Central and the only AL team with a worse record is the Orioles. Seems like a nice way for Lester to ease back into his groove.
Is there anyone out there who doesn't think Lester will pick up right where he left off and grab win number 11? After what he's been through, I don't see a little lat strain keeping him down.