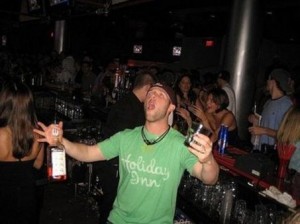 With all the attention on Gonzo, pitching injuries, the new Harry Potter movie, it's understandable that little has been made about the run Dustin Pedroia is on. After breaking the deadlock in the marathon game Sunday, and breaking open last night's game, people are starting to notice. Pedroia now has a 16-game hitting streak and has reached base safely in 28 straight games. More stats from the Herald:
Lately, Pedroia has been the hottest hitter in the majors' most powerful offense. Since getting his balky right knee scoped June 9, he has played in 32 consecutive games and batted .379 (50-for-132) with 32 runs scored, nine home runs and 28 RBI to raise his season average from .247 to .295.
The big hit last night came off of the awkward-delivery of Mark Worrell, who now has an ERA of infinity for the season. Way to use the 'pen Buck.
Unfortunately Russell Martin and his porn-stache drew a bases-loaded walk in the top of the ninth to put the Yankees up 5-4. With Rivera pitching the ninth, it was over, and the Sox lead remains a game-and-a-half.
Tonight, Weiland gets the start against the 3-13 Guthrie. My money's on Pedie and the bats.