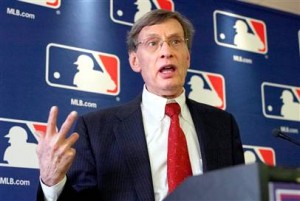 The topics of performance enhancing drugs in baseball and possible realignment had to take a back seat so Bud Selig could address the real issue at hand: Derek Jeter.
Captain Intolerable has been taking a lot of grief over his decision not to attend the All Star Game due to the "emotional and physical exhaustion" of getting to 3,000 hits. Many players and media members alike think the 3,000 hit plateau is exactly why he should have been at the game. He should have just used Manny's old standby excuse – the dead grandmother. But the Commish has his back:
"Let's put the Derek Jeter question to bed: There isn't a player that I'm more proud of in the last 15 years than Derek Jeter," Selig said. "He has played the game like it should be played. He's even been a better human being off the field as great as he is on the field. So any concerns that I keep hearing about Derek Jeter, I know why Derek Jeter isn't here. I respect that. And I must tell you I think I would have made the same decision that Derek Jeter did."
Christ, it sounds more like wedding vows than commentary on Jeter's decision. The undisguised man-love and the fact that he mentions "Jeter" and "bed" in the same sentence make it more than a little creepy.
I won't rest until Peter Gammons and Kevin Millar are named co-commissioners of baseball.