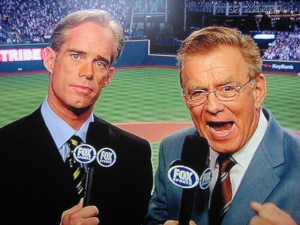 Hi Def is not doing Joe Buck or Tim McCarver any favors.
Rickie Weeks swinging and missing during the Home Run Derby was epic.
The over/under for how many times Buck and McCarver mention Jeter is infinity. I'm taking the over.
New movie Change-Up about two guys that switch bodies…original.
End of the first and I'm already calculating the number of minutes until real baseball returns.
"Bautista has re-invented himself"…with a little help? Very likely.
Moneyball movie looks interesting.
I want to go to Arizona.
Beckett "felt something" in his left knee warming up and won't pitch. F#&k.
Wow, Bautista's catch looked like the Tom Brunansky catch from '90.
Granderson is a fan of professional wrestling? Lame.
Gonzalez! I had no idea how good he was until I saw him play every day.
Bikini-clad women and baseball…genius!
The Prince redeems himself after picking the worst Home Run Derby team ever.
This just in: I really do not like the All Star Game.
New Planet of the Apes movie looks pretty badass.
Who will Fielder be DH'ing for next season?
3-1 National League in the fifth. I'm going for a run, you're on your own for the rest of the game.