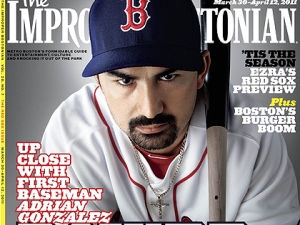 Actually, you've got a whole team of problems. The early-April Red Sox, who returned for a good part of this road trip, were replaced by the early-June Red Sox sometime around the seventh inning of Friday's game. Last night they pounded out 10 runs on 13 hits, featuring a combined 9-for-15 effort by the 2-3-4 punch of Pedroia, Gonzalez and Youkilis.
Andrew Miller made a statement for remaining in the rotation going six solid innings and giving up just two earned runs and throwing an economical 85 pitches. The bullpen held until the Sox blew this one open in the eighth and have now won three straight. The sweep is lined up with Beckett facing…some other pitcher but, he is pitching against a weak line-up and should see double-digit run support.
The Rays and the Yankees both won, keeping the Sox deficit at two-and-a-half. Whatever. The important thing is the Sox are playing well and finally wrap up interleague play and head home to Fenway where Big Papi can get back in his groove and the pitchers can stick to pitching and Francona can stop stressing over double-switches. Can I get an amen?