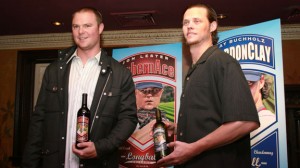 The Red Sox didn't get the win last night (actually, early this morning) but that's OK. I'm a big picture guy, and seeing Lester back on the mound and pitching well was better than a single win. Because we know he is going to lead us to a lot of wins, and will take his badassery into the playoffs as well. In reality, this loss is on Tito. Lester was on a strict pitch count and after closing out the fifth with a 1-0 lead, his job was done. Tito tried to squeeze a little extra out of him and the team paid for it. This is Francona's second Gradyesque moment as he also left Wakefield in far too long in his last start. I'll be watching him.
More good news from yesterday, Clay Buchholz seems to be getting closer to a return. From the Worcester Telegram:
"He said it was like night and day from his last side session, so that was good news," Red Sox manager Terry Francona said.

On the disabled list since June 17, Buchholz said his back felt 80 percent healthy. If all goes well, he'll take part in a more extended side session tomorrow. Buchholz (6-3, 3.48) expects to make at least a couple of starts in the minors before taking the mound for Boston.

"I've pitched with pain before," he said. "It's just a muscle that got pulled. If I can get it back and pitch like I did the last part of last season, that's what I'm going to do."
JD Drew was put on the DL with acute suckiness a shoulder impingement and tonight we get Mr. Miller looking to right the ship and start a new winning streak. Speaking of streaks, Dustin Pedroia upped his to 22 games. This team is poised to do great things. Don't miss it.