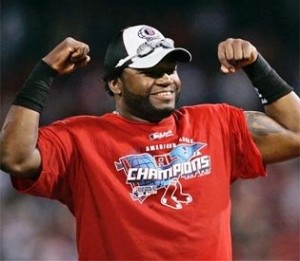 Dustin Pedroia wasted no time extending his hitting streak by going back-to-back with Ellsbury in the bottom of the first. Twenty-four games and counting. David Ortiz notched his 1,000th RBI with the Red Sox in true Big Papi-style; a grand slam to blow the game open in the fourth.
And man, you stake John Lackey to a seven-run lead, it's almost even money he holds it. Lackey grabbed the win but did not exactly shine. Lackey was pulled after just five-and-two-thirds, giving up three earned on 11 hits, two of which left the yard. The mop-up guys finished the game but the story was once again the bats. Sixteen hits, and the first three batters were a combined 9-for-13 with 7 RBI.
The Yankees were busy making history today by being the team that let Seattle break their 17-game losing streak. The Yankees could only muster six hits off King Felix who picked up his ninth win. Meanwhile, the Rays were getting shellacked 13-0 and are close enough to being out of the race to make you wonder if they'll be sellers instead of buyers by Sunday.
Finally, congratulations to Ervin Santana (incorrectly reported as Johan Santana by the lovely and talented Heidi Watney) for getting the non-no against the Angels.
Day game today with the Commander on the hill. Get you "call in sick voice" ready for the morning.