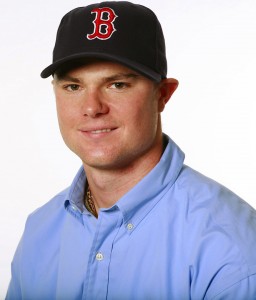 Jon Lester pitched four no-hit innings, then didn't come out for the fifth. The official word is a strained lat. So let's review: Dice-K out for the season, Buchholz going for a second opinion on his back, Lester has a lat strain, and Lackey sucks. Is it Kevin Millwood time?
Millwood had gone 3-0 with a 1.79 earned run average over his first three PawSox starts, before being roughed up for six runs in four frames in his previous start.

Sunday night, Millwood, 36, scattered six hits, struck out six and walked three in defeating his former team.
The bullpen held the 3-0 lead until Papelbon made things interesting in the ninth. He gave up four hits (including a 2-run bomb to Bautista) and a walk. Darnell McDonald threw a bullet to Jason Varitek who blocked the plate and saved the tying run from scoring. And saving Papelbon a whole lot of grief on talk-radio tomorrow.
In case you haven't noticed, Red hasn't been around lately. He told me he was "down the Cape" which I have come to learn puts Amalie Benjamin's security team on high alert. Barring legal action, he should be back tomorrow.