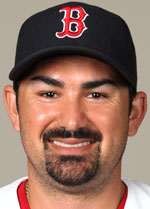 Adrian Gonzalez and his imposing eyebrows helped get the Sox back to their winning ways. A three-for-four night with a homerun and two RBI. Gonzo is now batting a lofty .356 with 18 bombs and 89 RBI. Lester grabbed his 11th win going eight strong and giving up a couple of runs on four hits while fanning eight.
With just hours remaining before the trading deadline, the Sox made a couple of moves. After Jimenez was dealt and Bedard pitched an inning-plus of batting practice to the Rays, the Sox went out and acquired Rich Harden from the A's:
The Red Sox, who lead the American League East by two games over the New York Yankees, are gambling that Harden, 29, can stay healthy. He is 2-1 with a 4.30 ERA in five starts since coming off the disabled list earlier this month. He has made at least 25 starts in a season only twice since 2005.
The Red Sox also added some infield depth by picking up Mike Aviles:
The Red Sox view Aviles as veteran infield insurance, and it signals that they have some doubts about when Jed Lowrie will be back, and how effective he will be when he returns. Aviles was batting just .222/.261/.395 for the Royals, but in limited action had good numbers against lefties, batting .309 (17-for-55) while slugging .600.
Does it signal doubts about Lowrie's return, or signal the end of the line in a Sox uni for Lowrie or Scutaro? We will know by 4:00PM.