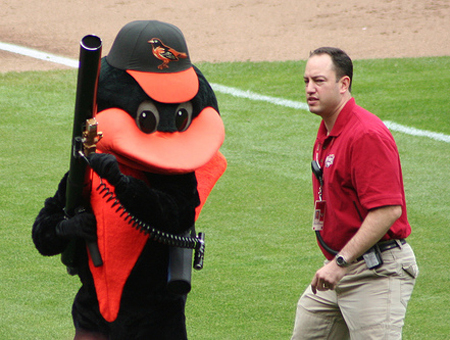 I suppose if I spent enough time in the dank, foreboding gallows of the AL East, being viewed as a perennial kicking bag and managed by a guy who's into "tits pounding," then I'd lose my shit from time to time. So last night, after the Sox unleashed an eight-run first on the Os, I got the feeling someone in a Boston shirt would catch hell.
Turns out it was Ortiz in the bottom of the eighth, whom pitcher Kevin Gregg attempted to brush off the plate not once but thrice. When Papi finally popped out and started that lollygag-to-first thing he does, Gregg shouted for him to haul ass down the line. The Large Father responded by attempting to smack the white off Gregg's cheeks. "Attempting" being the key word here, as you'll see in this NESN clip:
After the game, Gregg noted, "I think you show them that we're not backing down. We're not scared of them—them and their $180 million payroll. We don't care. We're here to play the game. We have just as much right to play the game here and we're going to do everything we can to win."
But the best post-brawl quote comes from, of course, Commander Kickass, who got the win but left early after losing his footing on the mound:
"We're a good hitting team and you can't just be hitting our [expletive] guys just because we score a lot of runs. That's how the game should be played. It may be something totally different or maybe they saw something they didn't like or whatever.

"But if it's just because we scored eight runs in the first inning and they're going to throw at our [expletive] guys, it's going to be a long year.''
Certainly makes the next two games must-see-TV.