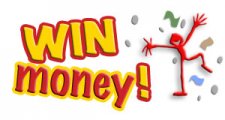 Time is running out to sign up for tonight's free one-night fantasy baseball showdown. Here's how it works: go to the Surviving Grady/Draftstreet page, sign up (it takes about a minute), then pick your 14-player team, staying within the $100K budget. After that, it's on. The top five scores get part of the $150 prize money, the next five get a free Surviving Grady t-shirt.
Your roster must include the following: (C, 1B, 2B, 3B, SS, 3 OF, 2 U, 2 SP, RP, P). Player salaries are set by DraftStreet based on fantasy production. So, if you want to put Roy Halladay on the mound it might cost you $16k, which means you'll have to find some bargains to fill out the rest of your squad. Sign up now for free. Build a team (you can adjust your roster up until the games start). Then check out the scoreboard when the games start and watch your team win you cash. 
I'm not going to give away all of my roster secrets, but Carlos Quentin is a bargain at $7,678.
Again, cash and prizes to the top ten finishers. It's free and takes all of five minutes to sign up and set your roster. What have you got to lose? Tonight's action is limited to only those who sign up through Surviving Grady, so your odds to win are great!  Sign up now!
If I win, you will never hear the end of it. Never.