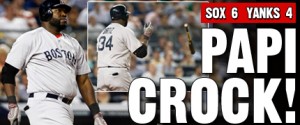 This is the attitude I've been waiting for this team to display. The Red Sox are good, and it's about time they start acting like it. Especially against the Yankees, because they don't like it:
As Ortiz left the batter's box, he flipped his bat and it didn't go unnoticed.

"He took a long time getting out of the box and you never want someone to do that to you," catcher Russell Martin said. "It's up to us to do that back at them. I like it better when he does it against other teams, not against us. He almost got hit by the [previous] pitch and kind of rubbed it in our faces."

Defending Noesi, managerJoe Girardi didn't like Ortiz's act.

"I didn't care for it," Girardi said. "I don't know if he was upset with the pitches earlier. I have a young kid on the mound. I don't know if he was upset that he came in hard on him."

Ortiz brushed aside Girardi's comment.

"It's not my first time, and it's not going to be my last time," Ortiz said. "So, big deal. I am a home run hitter. It's not like I do it all the time, but it's part of the excitement. What can I tell you?"
Damn straight, Papi. Hit another one tonight and do the Jeffrey Leonard "One Flap Down" around the bases and do the Chuck Berry "duck walk" across home plate. See how they like that.
Please sign up for Friday's Draftstreet showdown with Red and I. Cash, prizes and the opportunity to prove what knuckleheads we really are all on the line!