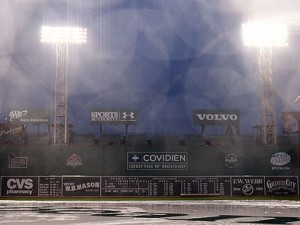 After last night's show of good sportsmanship, scratching Josh Beckett and starting Alfredo Aceves, a rain-out would simply be wrong. The hour-by-hour forecast shows a small window this afternoon that might allow this one to be played. Lackey has never faced the Padres in his career, maybe giving him an advantage, so let's get this one in.
Last night's game? You walk five batters in a row, then allow three consecutive hits the next inning, you're not really setting your team up to win. Granted, the Sox had plenty of opportunities, but the timely hit was not to be had and the Sox are tagged with a now-rare loss. We move on.
I see no reason the Sox can't continue their hit parade against the guy with the reversed first and last names, Clayton Richard. He's 2-9 with a 4.35 ERA and walks almost as many batters as he strikes out (32-44). Good day for raking before an off-day tomorrow (followed by a lovely weekend in Pittsburgh).
Just stop the freakin' rain please.