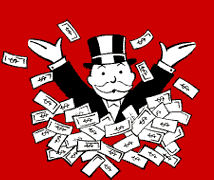 Baseball season is heating up, and suddenly the fantasy team you picked when there was still snow on the ground doesn't look so good. Already dumped Carl Crawford? Took John Lackey too early (like, at all)? Well, forget the full-season, six-month crap. What if you could play a one night showdown for free, and walk away with some cash in hand?. We have teamed up with DraftStreet.com to offer an exclusive free contest to Surviving Grady readers on Friday, June 10th. The freeroll will have $150 in cash prizes, the top 5 get paid, and it is totally free to sign up. How can you not get in on this? It's your big chance to prove you know more about baseball than Red and I!
Here's how you play: Fill your roster (C, 1B, 2B, 3B, SS, 3 OF, 2 U, 2 SP, RP, P) for this Friday while staying within the budget of $100k. Player salaries are set by DraftStreet based on fantasy production. So, if you want to put Roy Halladay on the mound it might cost you $16k, which means you'll have to find some bargains to fill out the rest of your squad. Sign up now for free. Build a team (you can adjust your roster up until the games start). Then check out the scoreboard when the games start and watch your team win you cash.
Click here to get started, it takes just a minute to sign up, but bragging rights last forever. The top five winners get cash, Red and I are throwing in a free SG shirt of your choice to the folks that finish 6th through 10th. I've got my eye on Luke Scott to have a breakout game but I don't want to give away all of my baseball secrets.
Let's make this interesting, I want to see you all playing Friday! Sign up now!