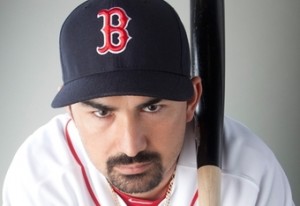 The Red Sox did not break their losing streak with a relentless show of offense. Nor did they shut out Pittsburgh in a 1-0 pitching duel. Instead, they received a gift from the good Pirates: four errors contributing to a 4-2 win. Three of the errors led directly to runs, unearned of course. But an ugly win still counts and the Sox remain a half-game behind the Yankees.
Miller did pitch well and grabbed his first win as a member of the Red Sox. Gonzalez continued being Gonzalez and added a couple of hits to his collection. And JD Drew left the game with a rare non-hamstring injury. He departed in the second with a bruise on his eye received during batting practice. Go figure.
And my fourth-grade maturity just couldn't let this go unmentioned. Last night's ESPN game featured a Bumgarner pitching to an Asdrubal. Thank you and goodnight.