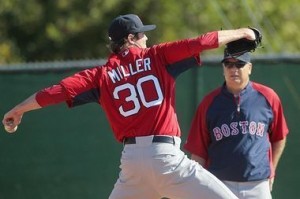 Tonight we get a 2-for-1 deal on the menu of interesting sub-plots. First, Adrian Gonzalez faces his former team for the first time since being traded to the Red Sox. And San Diego couldn't have been given a worse time to venture to Fenway to visit with Adrian.
He signed a $154 million, seven-year contract with the Red Sox in April, and has backed it up by leading the majors with a .348 average and 64 RBIs to go with 15 home runs. Gonzalez had two RBIs and recorded his 1,000th hit in Sunday's 12-3 win over Milwaukee.

Gonzalez has hit .424 with 18 RBIs on a current stretch where the Red Sox (43-28) have averaged 7.6 runs and won 13 of 15.
Second, Andrew Miller makes his Boston Red Sox debut. Miller was a big-time prospect who hasn't figured it out in the bigs yet. He has been lighting things up in Triple-A for Pawtucket. He is 3-3 with a 2.47 ERA and 61 strikeouts in 65 innings. If the Sox can continue their dismantling of opposing pitchers, Miller should get a "W" tonight.
Are we going to get the foghorn tonight?