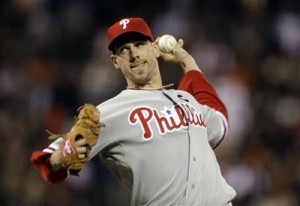 The worst thing about last night's loss wasn't watching our ace get slapped around. It wasn't watching our offense scratch out a meager two hits. It wasn't even losing "the World Series preview" opener. The worst thing was knowing we have to listen to another day of bitching about interleague play.
Interleague play has nothing to do with running into a buzzsaw like Cliff Lee. If he was pitching for the Royals or the O's the results would have been the same. Lee is filthy and he is on fire right now, this was his third consecutive shutout:
Lee finished with five strikeouts and two walks. He has been sensational since a slow start. The lefty was 4-5 with a 3.94 ERA through May. Since then, he's 5-0 with a 0.21 ERA in five starts this month.
To make matters worse, the Yankees pummeled the Brewers and the Rays won again, creating a log-jam at the top of the AL East with just two-and-a-half games separating the three teams. And to really piss on your Corn Flakes, Lackey starts tonight.
Finally, I leave you with a detailed statistical analysis of the epic level of suck JD Drew has achieved:
Drew doesn't have a double since May 9, and has managed just four on the season. That's the same number Giants pitcher Jonathan Sanchez has in 26 at-bats.

If it seems like Drew has been a rally killer, that's because it's largely true. He's hitting .204 with runners in scoring position — including .150 with two outs. Overall, he's hitting .185 with two outs.

Twelve Red Sox batters have had three-hit games this season and Drew, who is hitting .228, isn't one of them.

Providing virtually no extra-base power, Drew's .326 slugging percentage is the fifth-lowest among major league outfielders (minimum 200 plate appearances). He's on track for the lowest slugging percentage by a Red Sox right fielder (minimum 400 plate appearances) since Harry Hooper (.327) in 1915.
And bonus points for working Carlos Quintana into the article:
To find the closest comparison, you have to go to 1993. That season, Boston used an eclectic combination of right field options. Carlos Quintana, attempting to come back from injuries sustained in a car accident, received the most plate appearances.
As Red has noted, that injury was complicated when Venezuelan "doctors" sewed Q's shoulder to his ass. He was never the same after.