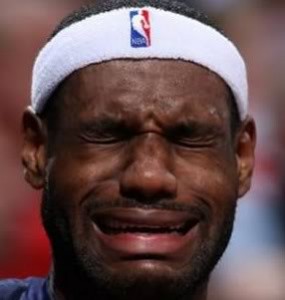 I don't want to take anything away from a great Mavericks championship team by saying the Heat choked. Dallas flat-out took it to the so-called big three and taught them a little something about class and professionalism on their way to the title. And it only made it sweeter to see D-Bag and Queen James play like bitches in the fourth quarter.
Wade dribbled the ball out of bounds off his foot, Lebron stepped out of bounds trying to save a ball, then was unable to grab a loose ball that went out of bounds off Chalmers. And despite the refs refusing to call a foul no matter how much Nowitski got beat up, Dirk took over the fourth to lock up the game and the series. As always, the Heat had a ridiculous advantage at the free throw line: 33 attempts to the Mavs' 18. Miami missed 13 of them, including Lebron's 1-for-4. After James missed badly on a couple of threes late in the fourth, this one was over. And Lebron was the first Heat player heading to the locker room without congratulating anyone. Class.
Congrats to Jason Kidd, Dirk, Rick Carlisle, and the rest of the Mavs, and thanks for saving the world from a summer full of Lebron.