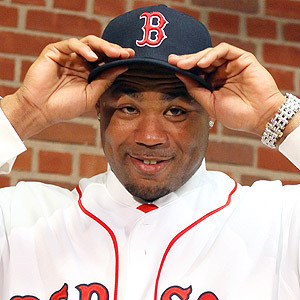 There is some speculation on whether or not Carl Crawford will hear cheers or jeers in his first appearance at the Trop since becoming a member of the Red Sox. My guess is there won't be enough Rays fans to make a difference. If you hear cheers, it will likely be from the Sox fans that made the trek to Rayville.  From today's Herald:
Attendance at Tropicana Field always has been a problem. When the franchise went to the World Series in 2008, it averaged a little more than 22,000 fans a game. This season, with the club more than holding its own near the top of the AL East, no more than 18,000 a night are turning out.
I can't even imagine Fenway Park with 18,000 fans, it must look as empty as opening night at a new Rob Schneider movie. It just goes to show you, you can't hurry tradition. Or maybe the lesson learned is not to play indoor baseball in Florida?
Either way, I'm looking for the always-fickle knuckleball to serve justice tonight. And Tito sums up the expected response at the Trop tonight:
"My guess is that there'll be cowbells."