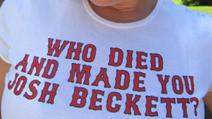 Hey Joe Girardi, Ortiz didn't flip the bat after his home run last night, feel better? Does that make the pain of getting your ass kicked for the fifth straight time on your home turf by your rival any more bearable? Jackass.
New York is officially in panic mode. Joba is out for the year, Burnett got lit up again, and Captain Smug grounded into a game-ending double play. Oh, and the Yankees are officially in second place. No more counting percentage points.
A Commander-like performance tonight and the sweep will be in hand, leaving the Yankees spiraling toward the drain, or so I like to think. Beckett, as we all know, has already shut out the Yankees twice this season. It's all falling into place. The Yankees best chance tonight is a rainout.
Don't forget, tomorrow is the Draftstreet.com freeroll (key word: free). $150 in cash and five SG t-shirts up for grabs. Register now.