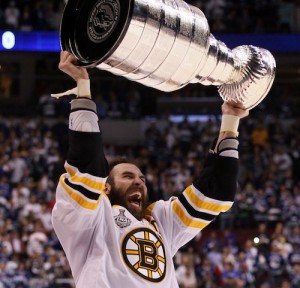 I think everybody who has been reading this blog for a while knows I'm not a hockey fan. My fondest hockey memories are of watching Bobby Orr and the Bruins teams of the early seventies, courtesy of channel 38,  on a fuzzy TV. Years later, I watched a bunch of young kids shock the world at the Olympics. Since then, not much hockey in my life. But that didn't stop me from watching the Stanley Cup finals and seeing Boston win yet another championship. Hats off to Tim Thomas and the Bruins, and especially to all of their loyal fans – I do know a little something about what you've gone through waiting for this.
And congratulations to the city Boston – the dynasty continues:
February 2002 – Patriots beat "The Greatest Show On Turf" to win Superbowl 36
February 2004 – Patriots beat Carolina Panthers to win Superbowl 38
October 2004 – Red Sox make the greatest comeback in sports history in the ALCS and go on to win the World Series
February 2005 – Patriots beat Carolina Panthers to win Superbowl 39, their third in four years
October 2007 – Red Sox sweep the Rockies to win another World Series
June 2008 – Celtics beat the Lakers to win 17th NBA Championship
June 2011 – Bruins win Game 7 in Vancouver to take home the Stanley Cup
A span of less than 10 years and Boston has won at least one championship in each major sport:  seven total championships. I haven't wasted any time researching, but I doubt there is any city that has come close to doing what Boston teams have done. Imagine the generation of teenagers and young adults who have grown up knowing nothing but victory. Awesome.
And as the Red Sox continue to play great baseball, currently leading the Rays 3-2, maybe we have another champion in the making.