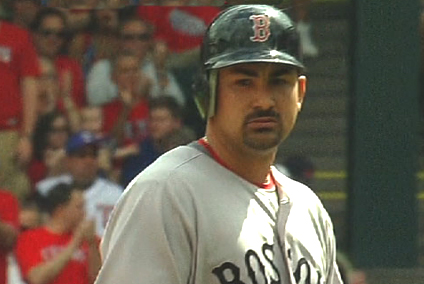 Coming into this series with San Diego, my biggest concern wasn't the games themselves, but whether Jed Hoyer might attempt to swipe Gonzalez back to Cali in an oversized duffle bag. Because the Gonz is pure gold. He's currently got the highest BA and most RBIs in the American League, and it's almost to the point where the Fenway PA guy should just say, "Next, Adrian Gonzalez will step on [insert pitcher's name here]'s nuts" every time he strolls to the plate.
For an interesting look at the Gonzo trade from the left coast perspective, check this great article from today's San Diego Union Tribune:
The three-time All-Star first baseman is off to a gonzo start in Boston. He loves his new digs. And the people of Boston are in love with San Diego.

"San Diego sent us two treasures," a cab driver said Monday afternoon as the Padres were preparing to meet Gonzalez and his new team at Fenway Park.

"Ted Williams and Adrian Gonzalez."

Perhaps that is a bit premature, but Red Sox Nation is clearly embracing Gonzalez, who leads the rich American League in hitting (.353) and RBI (67). He had three hits and three RBI in Monday's 14-5 victory over the Padres, with all three RBI coming in the decisive seventh inning when Boston scored 10 runs.

"Why would the Padres make a trade like that?" wondered a Red Sox fan outside the players' entrance to Fenway Park of the 4-for-1 deal that brought Anthony Rizzo, Casey Kelly, Eric Patterson and Reymond Fuentes to the Padres.

"Because we had to," explained Jed Hoyer at one of the half-dozen Padres/Red Sox "media availabilities" before the first pitch.

Not only did Gonzalez want more money than the Padres ever would offer, Hoyer believed his first baseman wanted "a bigger stage."

"The idea of a bigger stage excited him," said Hoyer.

Gonzalez certainly has that in Boston.

"The atmosphere here, it's always a packed crowd, it's sold out every night," said Gonzalez at his very official pregame news conference — an event called so he could discuss his previous life as a Padre and his ascension at the heart of the game.
Another Episode of Beatdown Theatre tonight at 7:10, folks. See you there.