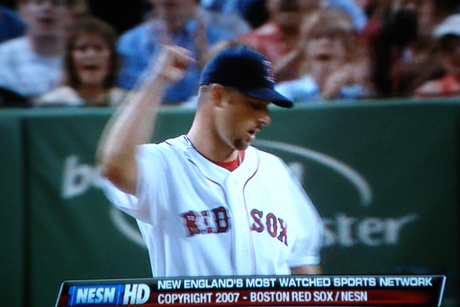 For a guy who was around when the New Testament was considered "science fiction," Tim Wakefield has been one of the more versatile and at times critical cogs in the Great Red Sox Machine. Need a spot starter? Long relief? Mop-up? A driver for that bank heist you've been looking to pull in Chelsea? Timmeh's your guy.
The ultimate journeyman, he's like that reliable dude in the hard-hat who shows up everyday with his sack lunch and gregarious attitude, and does whatever's asked of him, no matter how menial, without a sigh or complaint.
Last night, he came through again, filling a hole left by Lackey and Daisuke, and helping the Sox win their fourth straight, and the twelfth of their last 14 games. Take away those coupla eighth-inning bullpen meltdowns of a week ago, and we could be riding a 14 game win streak. Yowza.
Watching Wake go through the motions, it got me thinking of how much I take the guy for granted. Once he hangs up the cleats, who's gonna give us this versatility? Who's gonna be our human Swiss army knife? The guy we turn to when times get tough, and say, "Please… can you work us out of a jam just one more time?"
Lucky for us, Wake will never retire. And will still be pitching long after the Sox have gone robot catcher. Every story like last night's just reminds me that Tim is the man and anyone who thinks otherwise should simply turn in their stripes and go root for the Brewers.