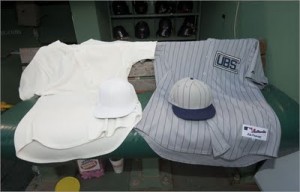 Well that didn't go as planned. In one epic clusterf%&k of an inning, the Red Sox turned a 3-1 lead into a 9-3 disaster. Aceves did his job, going five innings and only hitting one batter in the face. Matt Albers and a team-wide inability to throw or catch a baseball pissed that lead away. Even Tito effed up bringing in Franklin Morales despite having a rested bullpen. His comments before the game:
"It would be great to get him in maybe not such a high-leverage situation his first outing, but that may not be possible," Francona said Saturday. "The biggest thing is just get to know him, see what's going on there and let [pitching coach Curt Young] kind of have his two cents."
I blame the uniforms. The Sox looked more like milkmen or gas station attendants from the 40's than baseball players. Youk had fashioned his baggy pantalones into some sort of capri-pants-for-men and nobody looked comfortable. Meanwhile, we had the Fox rookie team bumbling their way through the broadcast. A very forgettable night.
The Sox are just a half-game behind both the Yankees and Rays. Wake, you know what to do.