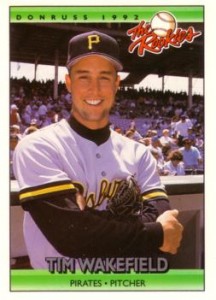 How many times since 1995 have we looked to Tim Wakefield to step up and help try get the team on track?
Tonight, we look to him again:
Minnesota was expecting to face Boston's Daisuke Matsuzaka in the opener, but will not after he allowed two runs in the 13th inning in a 5-3 loss to the Los Angeles Angels on Wednesday.

Instead, 44-year-old knuckleballer Tim Wakefield (0-0, 4.08 ERA) will make his second start of the season. In his first one, Wakefield allowed one run and three hits in 5 2-3 innings of Boston's 3-2 win over Seattle on Sunday.

The right-hander is 13-6 with a 4.43 ERA in 24 starts versus Minnesota.
It's time for an explosion of offense from these guys in support of Wakefield. Make it so. Meanwhile, let's root for the Bruins to complete the sweep tonight.