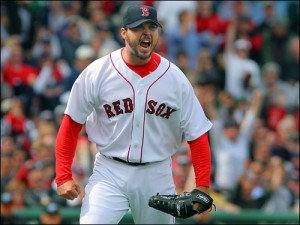 They are pulling the tarp off the field and getting ready for baseball at Fenway. With a win tonight, the Red Sox would have an even record for the first time since, well, since they were 0-0.
Josh Beckett pitching in wet, crappy weather in his first start since a 123-pitch outing…kind of makes me nervous. But it's the Angels, a team the Sox have owned over the past two seasons going 15-1.
To make things interesting, you can play along at home. From our buddy Dan at PlayUp.com:
Our start-up company, PlayUp has just launched a new FREE game called GameJ Baseball!  We are personally reaching out to bloggers around the country trying to recruit new players to try out our game.  Tonight, our live game turns its attention to the Sox-Angels game on ESPN at 7:00pm.  We are giving away $100 tonight to the top 3 scorers and want to invite you to watch your hometown Red Sox, play along, and give us any feedback you might have as experts in the sports field.

To play, take 9 swings at 18 questions about live game action throughout the night (How many hits in the inning?, Strikeouts? and many more).  You can build a streak as you get consecutive questions right and PowerUp to earn double points on any predictive (non-trivia) questions.

Feel free to SpeakUp using the chat icon in the upper right hand corner of the GameJ interface and challenge the PlayUp Universe for bragging rights, skill points, and of course, free cash prizes!

Join us at the NEW www.PlayUpBaseball.com! Hope to see you there.
Sounds pretty cool, I'm planning on checking it out. I'll be the guy getting everything wrong…