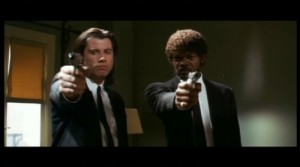 Play time is over, bitches. After another vicious assault, this time with the Tigers playing the victim, the Red Sox are mere percentage points out of first place in the AL East. Today's body count: 14 runs on 16 hits. Everybody in the line-up had at least one hit, and everybody except Varitek scored at least one run. That would be noteworthy info even with the regular line-up, but considering Reddick and Sutton were part of the deal, it's that much more impressive.
This is really the type of offense I expected to see a lot more often. I know the Red Sox invested a lot of dough in the bullpen, but who needs a bullpen when you can score ten runs every game?
I refuse to get into the Yankee-like nonsense of "the day Carl Crawford became a true Red Sox" but I do think performances we've seen over the last couple of days are what Theo was thinking about while he was writing the big check. Crawford is eight for his last nine with a home run, two doubles, a triple, and four RBI. Not too shabby.
How about the job Aceves did? One run on five hits with six K's over six innings. I don't think he's going to put those numbers up every start, but it's better than what Lackey had been giving us every five days, right?
And whoever had May 25th in the JD Drew Hamstring Pool, congratulations, exciting prizes are on the way.