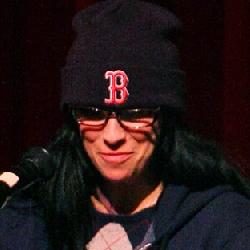 Watching a Fox broadcast of the Red Sox playing the Yankees is very similar to getting your annual physical during an alien abduction. Or so I hear. So adding a Red Sox fan to the booth to offset those two Yankee-fans-in-disguise buffoons should be an improvement, right? Not if that so-called fan is Sarah Silverman. In just a half inning, she dropped the street cred of Red Sox fans everywhere. After referring to the mentality of Red Sox fans as "losers" she dropped a couple of "Massholes" comments. Real fresh stuff.
On to the game. Because despite the Fox broadcasters insisting that the big story of the night was a 39-year-old, buck-sixty-five-hitting back-up catcher with back spasms, there was a game. And what a game: six runs on 11 hits from the bats, a 13-strikeout shutout by the hurlers. And once again we ask ourselves; is this a glimpse of the real 2011 Red Sox?
The top four in the line-up went 7-for-17 with a homer, a double and five RBI. The Commander went six strong with nine Ks, and the tandem of Albers and Hill did the rest. On the other side of the box score, the large-assed lefty melted down in the seventh and was responsible for all six earned runs. The 1-through-5 hitters went 4-for-18 with seven strikeouts, and the dynamic duo of Teixeira and A-Rod left nine runners on base.
So we're back to the familiar position of being within a whisker of .500. And, even better, we're a Jon Lester win away from sweeping the Yankees. That's right, just like the Great and Powerful Red predicted on our last Podcast. Eerie, isn't it?