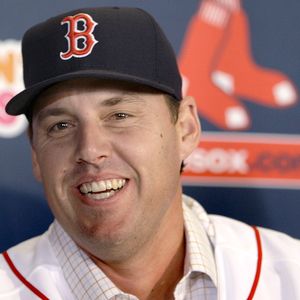 This is why I despise John Lackey. Following a marathon, piss-through-the-entire-bullpen, extra-innings game that ended somewhere after closing time in the midwest, it was Lackey's job to give the team some innings. And as always, when the team needs him most, he failed.
Four innings, ten hits and eight earned runs from the mouth-breathing, overpaid, should-be-a-fifth-starter. Not only did he give his team zero chance to win, he crippled the bullpen further. The guy sucks, plain and simple. I said it on the day they signed him and I'll say it every time he lets the Red Sox down. He's the JD Drew of the pitching staff.
Lackey now has a 7+ ERA and opposing batters are hitting a ridiculous .317 against him. This contract is going to debilitate the Sox for years to come. Can't they make up an injury for him like they did with Jenks and Wheeler? Unless it's interleague play I don't want to see Lackey on the mound.
In the basement this team remains, and once again it falls to Tim Wakefield to save their asses tomorrow night.