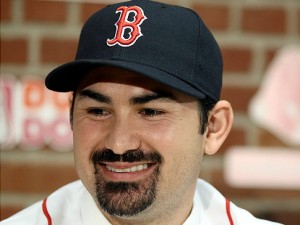 I may change my opinion on inter-league play if the Sox keep this up. Last night's assault on the Cubs should be enough to keep them out of Fenway for another 93 years. They should quietly forfeit the next two games and skulk back to Chi-Town with their little cub-tails between their legs.
Fifteen runs on 19 hits and six walks. Think about that: the Red Sox averaged almost three base-runners per inning. Four RBI or four hits for Senor Gonzalez alone. Three hits each for Youk and Ellsbury, and a 2-for-3 night for Salty. At .236 and rising, could this be what the Sox need behind the plate?
Lester didn't have his best night, but he had the offense to bail him out. I'm sure he'll return the favor with a 1-0 or 2-1 win somewhere along the way when the bats take a night off. Scott Atchison may be the most valuable player of the night, pitching three perfect innings and saving the bullpen for the Aceves and Wakefield starts.
In other news, I have filed a missing persons report for Red after receiving word he was spotted in LA trying to break into CBS headquarters to convince them he should be Charlie Sheen's replacement on Two And A Half Men. Come home Red, we miss you.