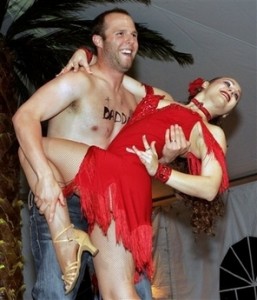 Is there anything Dustin Pedroia can't do? There's been a lot of talk all day about his epic 13-pitch at-bat resulting in a two-run double. As always, Tito had something to say about it as well:
Terry Francona was asked if he watched a replay of the game-turning at-bat in the bottom of the fifth, which resulted in a go-ahead two-run single. He had not, but was supremely impressed seeing it live. Even if he wasn't, the chirpy Pedroia wouldn't let it get away.

"He told me about it for 20 minutes, so I didn't need to watch it," Francona joked Tuesday afternoon.
Good stuff. Another win behind Lester would be goo too.