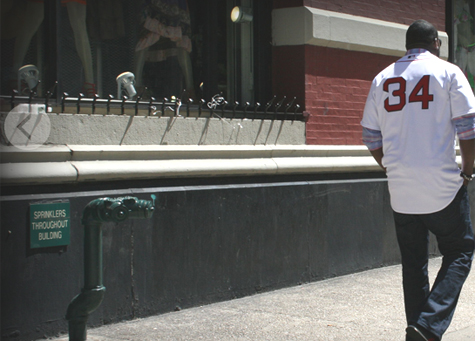 Screw the Bigelow Tea. Adrian Gonzalez revealed the secret to his recent tear: cheesesteak subs:
"I had a great cheesesteak before the game that got me ready. They make some great cheesesteaks here (in New York). They definitely rival the Philly ones. I told them if I did good, it was going to be because of that cheesesteak."
That's yet another difference between me and the elite athletes. Throw me a cheesesteak and a couple beers and I'll pull a narcolepsy special roughly twenty minutes later. But Gonzo transforms that beef and cheese into winning. Like his eighth home run of the year off Bartolo Colon in the fourth inning of last night's victory over the Yanks.
Despite the best efforts of the bullpen to give it away, Buchholz's two runs, five hits and seven Ks through seven innings stood tall, edging us one game closer to the elusive .500 mark.
Meanwhile, this video of Papi trying to find love on the streets of New York (and not in the way that, say, Denton does) is simply priceless. Thanks, MLB.com!