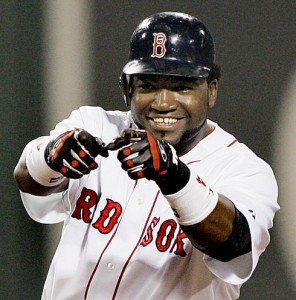 Big Papi came through 2004-style to win the first leg of the double-header, smacking a solo shot in the top of the ninth. The Sox have taken the first three games, outscoring the Tigers at an embarrassing 24-7 clip. Weather permitting, Beckett goes against Verlander and the game will be televised on NESN.
The four people who tuned in to the latest Surviving Grady podcast will remember I boldly predicted the sweep, and the Sox are now a Commander's victory away from it. The game is currently in a rain delay, here's the line-up:
Jacoby Ellsbury, CF
Dustin Pedroia, 2B
Adrian Gonzalez, 1B
Kevin Youkilis 3B
David Ortiz, DH
Carl Crawford, LF
Drew Sutton, SS
J.D. Drew, RF
Jason Varitek, C
Game two hero prediction: Youk.