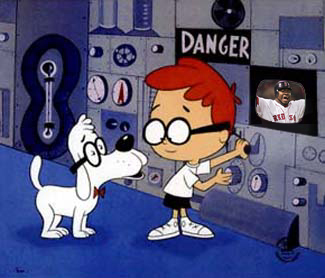 Yesterday's twin bill in Detroit was like a trip in Mr. Peabody's Wayback Machine. In the first game, we visited 2004, when Ortiz was a force of nature every time he took bat in hand. His clutch home run in the ninth to break a 3-3 lock was a reminder of how he can still change the course of mighty rivers — and f#$k opposing pitchers' shit right up — when he steps to the plate.
In the second game, we visited April 2011, when it seemed the Sox couldn't plate a run or advance a runner to save their bloody lives. Together, they collected only four hits, two from JD Drew, with batters two through five going 0-for-18. It was another tough loss for Beckett, but you just tip your cap to Justin Verlander, who was on with a capital "O", and file it away.
Despite the split, the Sox remain in first place and come back home tonight for series with Chicago and then Oakland–the kinds of teams you like to see drop by when you're on a roll and looking to pad your lead. (And be sure to check our SG tickets page for some good deals on game tix.)
In other news, the Tampa Bay rays are apologizing to their fans, but for once it has nothing to do with the team. Amazingly, it has everything to do with Avril Lavigne, who is somehow still allowed to have a music career when she should have been settled into a mid-management tier at Arby's long ago.
Lester on the hill tonight on a summer-feeling evening at Fenway. It's a good life, folks. And today we thank those who allow us to live it, while remembering those we wish were still around to take in the game with.