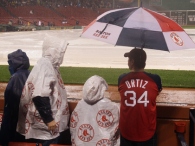 I guess you have to start somewhere. Today's 4-0 win, despite Mother Nature's attempt to further mess with the pitching, is as good a place as any to start. Another two-hour rain delay threatened to seriously deplete the bullpen, but Clay Buchholz put on the big-boy pants and returned to the mound after the delay, giving his team a much-needed five innings.
It was a 12-hit attack where every starter but Cameron (why is he here?) had at least one hit. The bullpen was outstanding: Hill, Albers, Bard and Papelbon combined for one hit and one walk with four strike outs. And this is what we all expected from this team. But will we see it again tomorrow?
Today was the 33rd game of the season, twenty percent of the way through, and the Red Sox are three games below five-hundred. If they play .600 ball the rest of the way, they will have 92 wins. Where will that put them? Probably not on top of the AL East.
This team needs a streak. It's up to Dice-K to help get this team one game closer to even. But that's tomorrow. Tonight, we dye our faith green and root for the Celtics to get back in their series with Miami. Home court, maybe a generous call or two, a Shaq sighting perhaps? It's not all about 18, it's all about tonight.