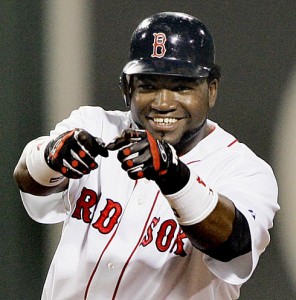 After losing the first six games of the season, the Sox have now won the last six and are within a game-and-a-half of first place. As nice as any win is, this one would have been a lot sweeter if the "W" had gone to the Commander. But Danny Bard shit the sheets, giving up homers to Brennan Boesch and Miguel Cabrera in the eighth.
That just meant it would take another ninth-inning win, and the Sox were up for that. The Beard walked, Ortiz singled (his third hit of the night), Drew was intentionally walked, and after a runner was gunned down at the plate, Crawford had the game-winner. If I'm not mistaken, that's Carl's third game-winning hit.
Now for the bad news. Beckett left the game with stiffness in his neck. It is being played down, but with two of the five starters already on the DL, they need Beckett more than ever.
"I battled through the first few innings, and it never loosened up," Beckett said. "I don't think it's anything serious at all, but it's better to be cautious, especially with the situation we're in right now with our starters."
Finally, the really bad news: tonight is the start of inter-league play. Once a clever gimmick to bring people back to the game, now it's just an annoyance. The Cubs are back at Fenway for the first time since 1918…raise your hand if you give a shit. Maybe they'll do something really fresh, like have both teams wear throwback uniforms! Sorry folks, not a fan. Time to go back to the balanced schedule and let the AL and NL meet in the World Series, the way God intended.