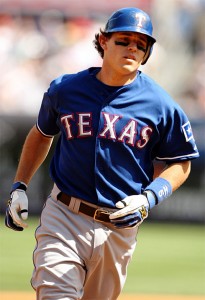 For those of you who missed the three game debacle in Texas, just look at the picture above. That's Ian Kinsler in his home run trot, a sight Red Sox pitchers are painfully accustomed to. Kinsler went deep three times, once in each of the games. And Kinsler wasn't the lone gunman: the Rangers hit 11 homers in the series, outscoring the Sox 26-11 in the three games.
Buchholz handed in the best start of the three games going six-and-a-third and giving up just five hits. Unfortunately, four of them left the yard. Tomorrow, during what is sure to be a long off-day, the questions will begin: Is The Greatest Team Ever really The Most Overrated Team Ever?
Hardly the case despite three straight losses to open a season where anything short of a World Series Championship will be a disappointment to many. The Sox will go on to win 95+ games and this opening weekend will look like an April Fool's joke.
Not a lot of good to talk about in this one other than Papi continues to swing a very Papi-of-old bat: two more hits and a 400-foot out held in the park by swirling winds. Crawford also had a couple of hits, breaking his 0-fer and Reyes pitched a perfect two-thirds of an inning. Is it just me, or does he look like the guy in Roadhouse that had the giant stuffed bear fall on top of him?
The only drama came from Heidi Watney, trying to eat a four-pound pretzel (not a euphemism) during the game. Does anybody know if she finished it, I couldn't find it in the box score?